Better Eyesight
by William H. Bates, M. D.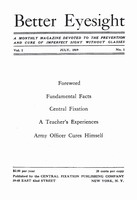 Better Eyesight is a monthly magazine published in the period July 1919 to June 1930. The magazine was printed on Dr. Bates' own publishing company: Central Fixation Publishing Co.
The magazines details Dr. Bates' findings after decades of research and experimental work into various eye disorders, and include several interresting case histories.
1919
1920
1921
1922
1923
1924
1925
1926
1927
1929
1930